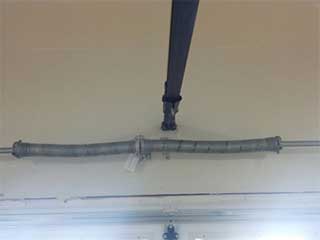 How Does The Spring Work?
Although it may not seem like it, your garage door is a hefty piece of machinery, which means pulling it up always requires a good amount of force. Where does that come from? The answer is: its spring. The purpose of this component is to store the energy that's necessary to be able to lift the door on command, and it does so when the door is lowered. That way it's ready to go the moment you press the button.
Leave it to the experts
Given the operating nature of these components, handling them can be quite dangerous, and should therefore only be attempted by trained professionals. No matter what kind of spring your system uses, our experts are extremely knowledgeable in getting them tended to right away. With years of experience in this field, you can trust that our technicians can get it repaired or replaced in no time. If you simply want to upgrade to a torsion model to be safer, we can handle that as well!
What's a torsion spring you ask? Well…
Different Spring Types
There are two types of springs that are found in garage doors – torsion and extension. The extension type tends to be found in older systems, and works by stretching out. The tension created by that is what stores the energy. They've become less common nowadays because the strain of their repeated stretching action makes them wear out much faster. Also, when they snap they go flying, which can be extremely dangerous. The torsion type, on the other hand, are much sturdier and tend to lasts longer because instead of stretching they simply twist tightly in order to store energy. They're also generally regarded as safer, because if they break they won't whip around.
Whichever type of spring you have, wear and tear are inevitable. That's where scheduled maintenance can really come in handy. Even properly applying lubrications in the right spots only once a year can help greatly increase your system's longevity.
Contact Us Today!
For repair, replacement, maintenance and more, be sure to call our Garage Door Repair San Marcos team today, and let our experts do what they do best.
When it comes to your door, we don't settle! We also offer:
Garage Door Off Track Repair
Emergency Broken Spring Replacement
Belt Drive Opener Installation
Part Replacement & Repair